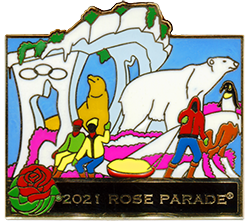 This Year's Float
2022 Float
Our Mission
Individual Sponsors
Lodge Sponsors

Recent Years
2022 Float
2020 Float
2019 Float
2018 Float
2018 Riders
2017 Float
2016 Float
2015 Float
2014 Float
2013 Float
2012 Float
2011 Float
2010 Float

Float History
1908 to 2022

News Media Coverage
(in .PDF format)
5 crowd-pleasing floats (2020)
Thoughts from the parade (2020)
Purple Heart Magazine (2019)
LA Daily News (2015)
Galt Herald (2015)
Isabella Coleman (2012)

Downloadable Forms
(in .PDF format)
Decorating Schedule
Lodging
Welcome
Suggestions for Decorators
Memorial Garden
Membership Application

Articles of Incorporation Rev.
June 2013 IRS Affirmation
June 2013 501c(3) Status
Some .PDF forms below may be
password protected for IOOF
members (hint: initiatory deg.)
2020 IRS Form-990
2020 CA Form-199
Corp. Bylaws

TICKETS & MEMORABILIA
Shop Online
Our PayPal Store
smile.amazon.com
Souvenir Programs

Order by Mail
(in .PDF format)
Game and Parade
Programs
Game and Programs
Pins & Things
T-Shirts
2022 T-Shirt Picture

Maps
Irwindale
Phoenix Access
Garden Inn Area
Garden Inn to Phoenix
RV and overflow Parking
Parade Route

Misc
Float Decoration 101
Frequently Asked Questions
Kristina's Project
1.5 Minute 2014 Promo
Privacy
Contact Us
Links

Odd Fellows Rebekahs Rose Parade Float
We introduce the public to Odd Fellowship through TV and Internet Streaming
The theme of the 2022 Rose Parade (carried over from the 2021 parade which was canceled due to the "covid" pandemic) is DREAM, BELIEVE, ACHIEVE.
Our float is titled Arctic Dream and is intended to commemorate polar exploration and focus public attention on the importance of the polar regions to our planetary climate. Cold polar regions maintain global temperatures in the range that has allowed we humans to flourish on our planet. The polar regions are currently warming twice as fast as the rest of the globe, and Arctic and Antarctic ice habitats are literally melting as temperatures rise.
The float depicts Odd Fellows and research scientists exploring and encountering wildlife found at both our northern and southern poles. Such a simultaneous encounter with both polar bears and penguins is possible only in a DREAM. The polar bears and penguins are sending us an early warning of the climatic dangers facing us all. We BELIEVE that by working together we can ACHIEVE the Arctic Dream depicted by our float — a secure future for polar bears and penguins - which will benefit all life on earth.
To learn more about Arctic and Antarctic research efforts, please vist Polar Bears International and the 2041 Foundation.
Of polar bears and penguins... some interesting horological history...
In the 1970s and 1980s the Soviet Union's "Racketa" (Rocket), "Pobeda" (Victory), "Vostok" (East) and possibly other affiliated wristwatch factories may have anticipated our 2021-2022 rose parade float with several models of watches honoring polar exploration. Many of these watches featured a polar bear and 3 penguins on the watch face. These were mechanical (wind up) watches of decent quality and are collectable (e.g. you can often find them in good working and cosmetic condition on ebay and etsy web sites, usually selling for less than $100). I have found these watches advertised in both men's and women's models with case diameters ranging from 32 to 40 mm.
The watches commemorating polar exploration were usually named as "Buran" (БУРАН) models. "Buran" translates to "Snowstorm" or "Blizzard" in English and refers to a northeasterly wind of gale force. "Buran" was also the name by which the Soviets referred to their attempt to copy our space shuttle.
The label at the 6 o'clock position (СДЕЛАНО В СССР) on the watch face to the right translates as "made in USSR".
Lets compare a "Buran" watch face with this antique Odd Fellows brass door knob.
Are not the rays emanating above the hour hand pinion reminiscent of an "all seeing eye".
Are the 3 penguins an analogue of the three links?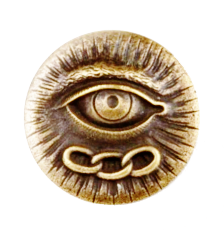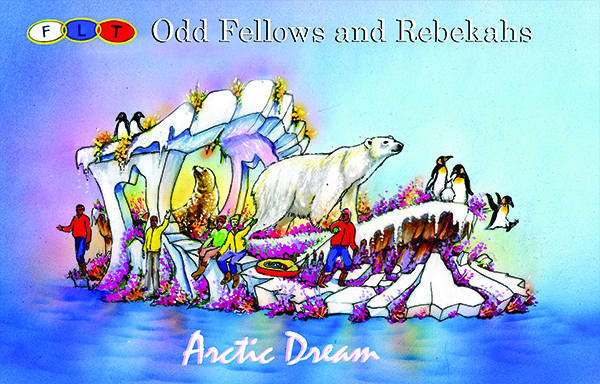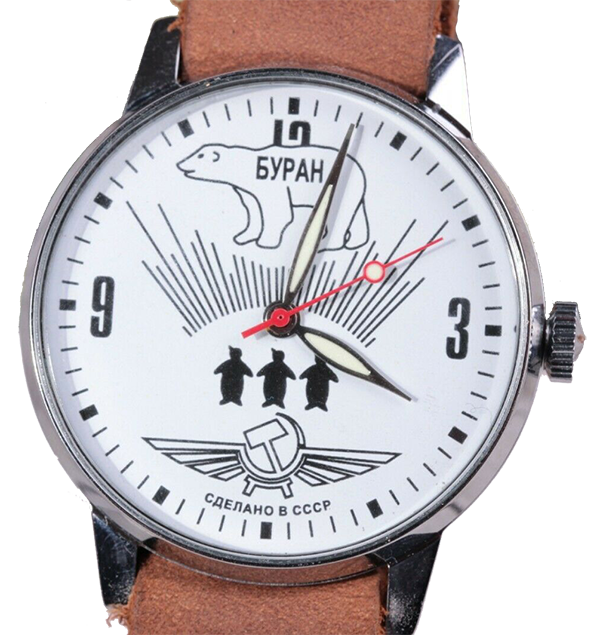 Our float as it appeared on float mechanical and fire testing day, August 28th, 2021. At this stage, the foat is wearing only its "underwear". Decoration with floral material begins in December.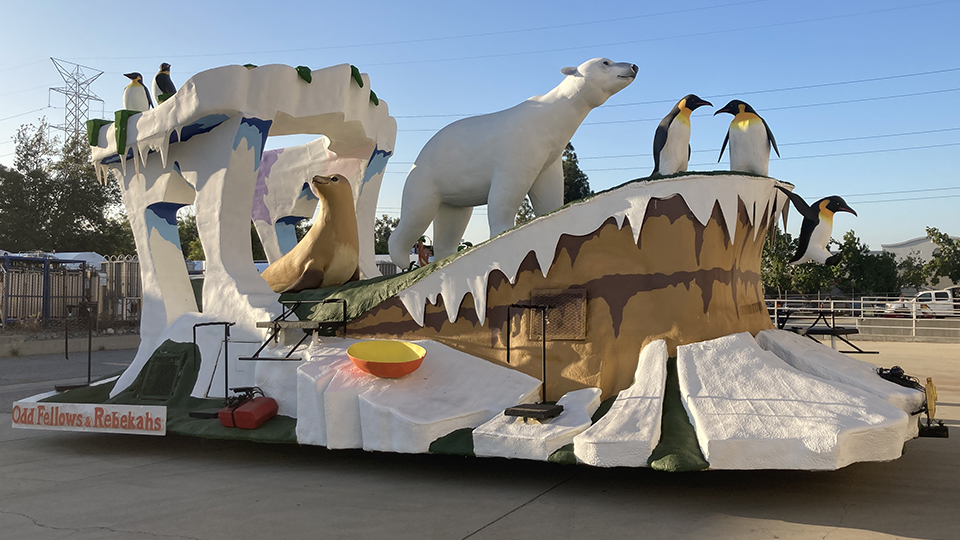 IOOF masked parade, Redondo Beach, CA, December 27th, 2020.
Due to the pandemic of 2020, the January 2021 Rose Parade has been canceled. It would not be prudent to allow 700,000 people to congregate in such close proximity. Our next float will appear in the subsequent parade which is scheduled for January 2022. In the meanwhile, to keep our float building skills up-to-date, and in accordance with safe pandemic practices, we have built a masked miniature version of our 2020 float with which we will conduct our own parade with no other entrants and no audience.
IOOF masked parade, Costa Mesa, CA, December 2nd, 2020.
Our float is viewed on New Year's day by approximately 700,000 people who line the 5.5 mile parade route along Colorado Blvd. in Pasadena California and by at least 70 million more via national, international and non English language television broadcasts. In 2009 the parade was broadcast to 217 countries (79 countries live) in over 20 languages. KMEX-TV is the local Univision affiliate in Los Angeles and produces the Spanish language telecast. Beginning in 2004, the parade has been telecast in the Mandarin and Cantonese languages on Sky Link TV, a Chinese channel based in San Francisco and Los Angeles. Live streaming on the internet began around 2010 and has expanded every year since.
This is truly a very large viewing audience that sees our work of art, hears our name, and learns of our fraternal mission. We have observed that at least since 2015, daily Google searches for "Odd Fellows" and similar terms, as well as visitors to our Sovereign Grand Lodge web site, increase by a factor of about 7X on the day of the rose parade. This uptick in Google searches concerning Odd Fellowship on the day of the parade appears to roughly correlate with the beginning of internet streaming of the parade. Google trends data may be found on our annual historical pages beginning with our 2015 float.
Odd Fellows Rebekahs floats have often been recognized by the parade judges over the past half century for the complex and painstakingly precise detail of our artistic workmanship. The float is decorated during the last weeks of December each year by dozens of members of the Independent Order of Odd Fellows (IOOF) who congregate in Southern California for a few days of comradery, fellowship and sunny weather. These volunteers come from all the affiliated orders of the IOOF around the world; the Odd Fellows, Rebekahs, Encampments, Cantons, Junior Odd Fellows and girl's Theta Rho lodges. Members of the IOOF who have performed extraordinary fraternal or civic service are often invited to ride on the float. For instance, one of the riders of the 2011 float was Arlene Boatright, a 90 year old Rebekah who came to the assistance of a young woman who had been stabbed. Come join us and be part of the fun!
Please be patient while these video clips and photos download to your computer.
The entire surface of a Rose Parade float MUST be covered in natural materials such as seeds, beans, grains, fruits, vegetables, tree bark, leaves, dried flowers, fresh flowers, etc... The surfaces that appear to be "painted" are actually coated with an underlayer of white glue upon which is manually dabbed powdered floral material which is prepared by grinding seeds and flower petals into a fine dust. Many different floral materials are required to achieve the range of colors.
Follow the decoration process in these photos and video clips.
Watch the 2018 telecasts from KTLA, HGTV, NBC & KMEX.
Watch the 2017 telecasts from KTLA, HGTV & NBC.
Watch the 2016 telecasts from NBC, HGTV & KTLA.
Watch the 2015 telecasts from ABC, HGTV & KTLA.
Watch the 2014 telecast.
Watch the 2013 telecast.
Watch the 2012 telecast and 2012 photos.
Watch the 2011 telecast.
Watch the 2010 telecast.
Watch the 1998 telecast.
Watch the 1997 telecast.
Watch the 1996 telecast.
Watch the 1995 telecast.
Watch the 1994 telecast.
Watch the 1993 telecast.
Watch the 1988 telecast.
Watch the 1987 telecast.
Watch the 1986 telecast.
Watch the 1985 telecast.
Watch the 1983 telecast.
Watch the 1982 telecast.
Note: Our video clips are provided in .mp4 video format for playback using an HTML5 capable web browser such as Safari which is provided with recent versions of Apple's OSX. Some versions of the Microsoft Windows OS and its Internet Explorer web browser support HTML5 and play .mp4 files, some versions do not. Should you get an error message, try using a different web browser such as Apple's Safari or Google's Chrome which in our testing works nicely with Windows 8.1. We also provide links below for you to download the .mp4 files to your computer and/or mobile device. To play downloaded .mp4 videos with some versions of Microsoft Windows you might also want to install Apple's QuickTime player for Windows.